A key scene in the movie It's a Wonderful Life is when George Bailey shops for a suitcase for the travel he's planning. He tells the store clerk what he wants: A suitcase big enough for all his journeys and with room for labels from all the places he'll visit.
Because the upcoming travel adventure is going to change his life.
My first real travel adventure took place in the summer of 1975 when I went train hiking across Europe. Sure, I'd traveled before, but never for this long or to so many different places. I knew my luggage had to hold everything needed for a month. Plus I'd walk a lot and needed my hands free. That narrowed it down to a backpack.
I went to a nearby sporting goods store. They had a few hiking backpacks for sale. I checking them out — to the extent that you can with absolutely nothing in the pack. Of course at that point almost any backpack frame is going to feel great on your shoulders and back.
In the end, I purchased a blue, external frame backpack with the obligatory shelf for the equally obligatory sleeping bag (which I'd also purchased).
Back home, I stuffed the backpack with clothes and everything I'd need for a month. The only other thing I carried was a shoulder bag for my cameras.
I was set for adventure.
Before getting on the first train, I weighed the backpack at the station. I must have succeeded in packing light, as it clocked in at about 30lbs.
That initial summer of train hiking inspired other journeys. Some short, some long. The backpack always went with me. It might have lost the 'new backpack smell' and some of the initial shininess. But it was very much an essential companion. Sliding it off my back to fling it up on the luggage rack over the seats in a train compartment became almost automatic. As did grabbing it back down, getting it onto my shoulders and hooking the hip belt. Takes longer to explain it than to do it.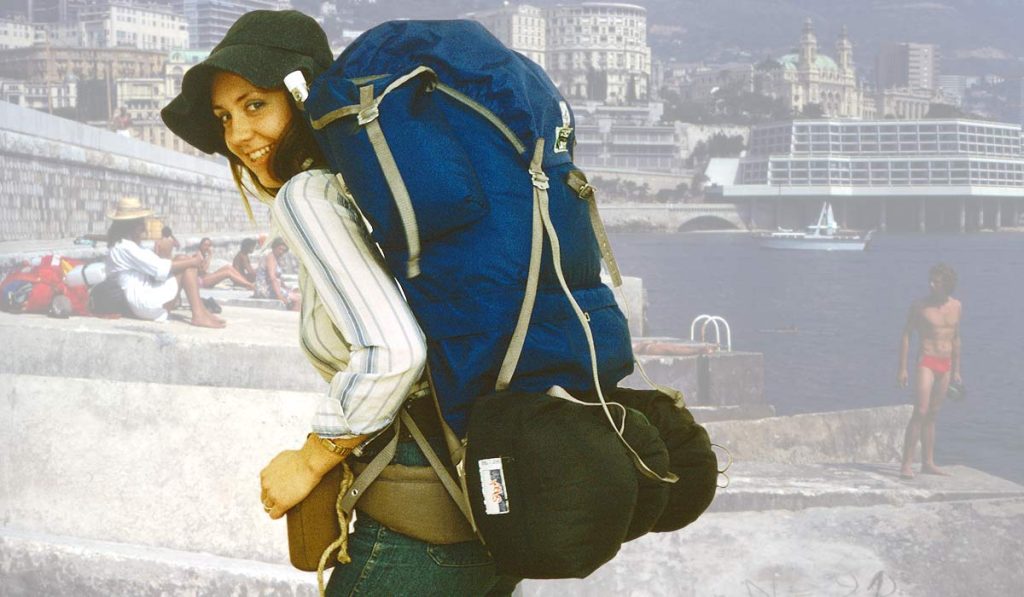 The old man with the old suitcase
In 1977, I visited Vézelay, France. That's where I met the old man with the bicycle.
An old man biking around the countryside, staying at Youth Hostels and hanging out with college age kids was unusual. I also noted that both his bicycle and suitcase seemed to have been new sometime back in the 1930s.
His suitcase was definitely a clone of the one George Bailey was given in It's A Wonderful Life. This was 1977, so that meant it was somewhere like 40 years old.
Who uses the same luggage for 40 years?
That's like, if not crazy, then definitely odd.
After all, my backpack was only a couple years old.
So, yes, 40 years seemed totally ancient. Surely the old man could afford something a bit newer?!
Now decades later and looking back, I can relate a whole lot more to the old man and his suitcase. Because I still have and use that very backpack I purchased in 1975.
The backpack that just worked
For one thing, my backpack worked perfectly. I could load it full of clothes and other stuff and still easily carry it. With my hands free.
When we travel, we usually have luggage that we haul with us and when we get to our destination, it stays in a hotel room. Or storage locker. Or something. Because who wants to go sightseeing with a suitcase in tow?
That's why I was infinitely thankful for storage lockers at train stations: Arrive, find a locker, stuff your backpack in there and be free to go enjoy the sights.
Except occasionally, it didn't work out that way.
One of my first stops in 1975 was Monaco on the French Riviera. As the train pulled into the station, I saw them. Piles of backpacks and luggage sitting on the platform next to the station building. I soon found the reason: While there were some lockers, there were not nearly enough of them for all the young backpackers wanting to see this home of the rich and famous. Also turned out most of them didn't intend to carry their backpacks all day. Especially not up and down all the hills in Monaco—Monte Carlo. So they just left them at the train station. Presumably expecting the backpacks to still be there at the end of the day.
That didn't seem safe or prudent to me. So I kept mine with me. All day. From train station to the pier by the water to the royal castle. Even with all the hills, I discovered it didn't really slow me down. Clearly I'd made a good choice when picking out that backpack. And in packing light.
The backpack was truly perfect on trains and buses and for those (occasional) hikes on foot.
Those not so friendly skies
Airlines turned out to be another story though. After a few flights, I figured out that backpacks with all their straps and airport luggage conveyor belts are not a match made in heaven.
Fortunately, there was an easy fix: I designed a cover for the straps that could be snapped on and off as needed.
Eventually the airlines got unfriendlier still, but there was a solution then too, as you'll see a bit later in our story.
So I purchased a backpack for one summer of train hiking and it became a great companion on every journey I went on for years.
Travels with a family and backpack 2.0
Some years went by and I was now traveling with my wife and daughter. More people means more stuff to bring along. I concluded that we really needed more space than the old backpack provided. Plus, I no longer needed to carry a sleeping bag everywhere. Something about not sleeping on train platforms.
We did the traditional suitcase thing. Like millions of other travelers. Hands full of suitcases. Tried piling them on little folding luggage carts, only to watch said carts self-destruct in less than a mile on any European cobblestone street encountered. Clearly not the way to make travel easy.
The original reason I got a backpack was to have hands free while carrying luggage. Turns out that's even more important when traveling as a family.
So I decided it was time for backpack version 2.0. Not as in going out and purchasing a new backpack though.
Instead I removed the fabric packsack portion from the metal frame (that had the shoulder straps and waist belt). Then I created a new pattern for a new, larger packsack with more compartments and started sewing. I used sturdy cordura fabric, guaranteed to would stand up to virtually anything, keeping the contents dry and protected.
While at it, I also made a duffel bag sized to let me slip the entire backpack into it. Because by now, airlines had made it really clear they didn't like travelers with backpacks by making you sign a damage waiver prior to checking that backpack. That way, when they lost or destroyed the backpack, they were in no shape or form responsible.
Of course, if the backpack is inside a duffel bag, then in the eyes of the airline, I'm checking a big, soft bag and not a backpack. No waiver. They're responsible!
Once at the destination, it took seconds to pull out the backpack and roll up the duffel bag. It fit conveniently into one of the backpack's pockets.
This new/old backpack version 2.0 went with me on many trips across the Atlantic and around Europe and the US.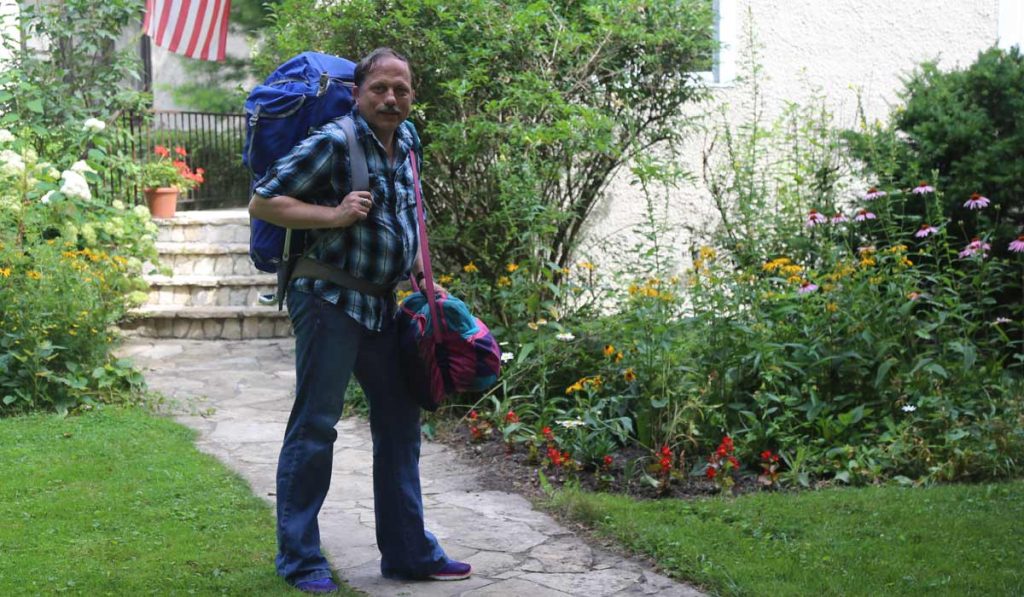 Back to the original
Fast forward to 2015. I was going to take a train trip half-way across the US. Read about that adventure here. Quickly decided that I didn't want to mess with a suitcase, for all the same reasons I didn't take a suitcase when traveling around Europe in the '70s: They're annoying, hard to haul around and tie up your hands.
So it was backpack time again. But I didn't want or need one as big as my backpack 2.0 had become. So looked at new ones. And made an interesting discovery: The local sporting goods stores carry tons of backpacks. Unfortunately all day packs. Not a single big frame backpack anywhere.
Apparently folks looking for technical backpacks for serious hiking don't shop in Little Rock.
I found many large backpacks online, but seriously, a good backpack needs to truly fit your body to not feel like you're carrying a ton of bricks after just a few miles. So buying online wasn't a real option.
That's when I remembered that I still had the original fabric packsack for my old backpack. I disconnected the newer, larger packsack from the frame and reattached the old pack. Now the backpack was a bit smaller (more maneuverable while still with plenty of space for my trip needs). And really didn't look bad at all. A few dings here and there, some wear and tear, mostly from the (un)friendly skies.
I used that backpack on my train trip from Little Rock to Washington, DC, New York and Chicago. And later on a train journey to Los Angeles and Chicago.
Like the Energizer bunny, it's still going and going…
As I write this, I've recently returned from another train journey to Chicago and Washington, DC. The old backpack went with me again. Still performed excellently.
In fact, I found out it's still easy to carry the whole thing with me while sightseeing. I had a layover of a few hours at Union Station in Chicago. Unfortunately the line to store luggage was interminably long. So I just carried the backpack with me as I explored the Loop and Millennium Park with the Bean.
Never did I in my wildest dreams back in 1975 think that I could/would be still using that same backpack in 2021. 46 years later! After all, who does that?!
Except now I understand the old man with the bicycle and his old suitcase much better. Because that's not just a piece of luggage anymore. It's a travel companion. Just looking at it, I'm reminded of all the adventures it's been along on. The times it's been flung up on a luggage rack in a train, carried on hikes through city and countryside, rocked down airport luggage carousels. Or just sat there in a youth hostel or hotel room.
If I had collected a patch or sticker from every place that backpack has been, it would be all covered. But I don't really need the names of those places written out. They mentally pop up when I look at the backpack, loaded and ready to go on yet another trip.
It's indeed like traveling with an old friend. Easy enough to carry all day when needed. Large enough to hold all the adventures.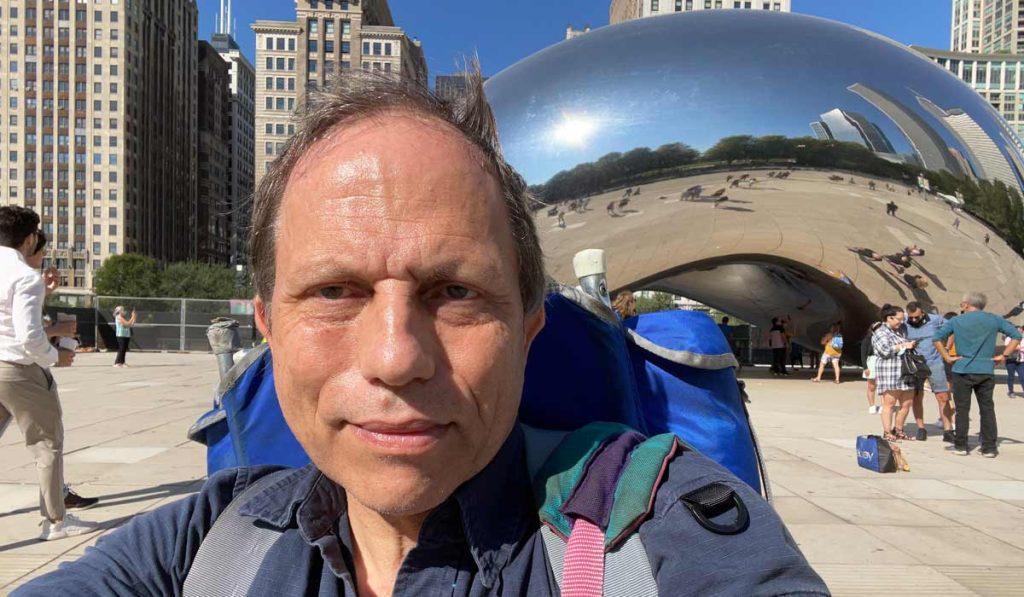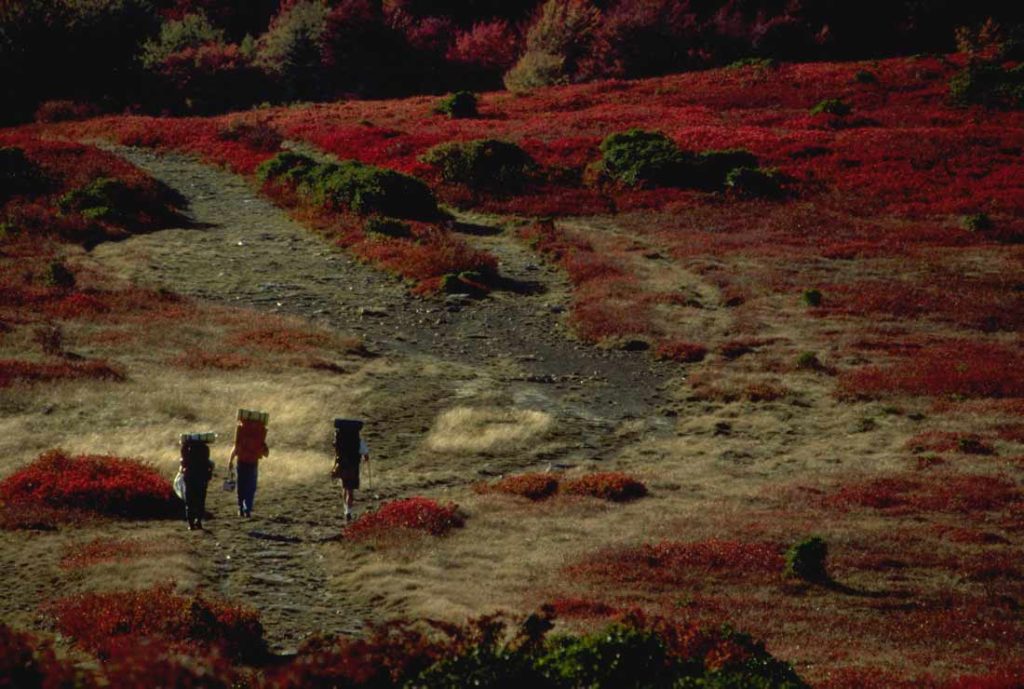 Related posts