A sea of people coming and going in all directions. Even on a Saturday afternoon, Pennsylvania Station on Manhattan is busy and an experience.
The giant board announcing departures is not yet showing a track for the Lake Shore Limited. That's normal at Penn. Usually, a track isn't displayed until fairly close to departure so everyone is hanging out in the main area, just waiting, trying to out-guess the board.
When a track number finally displays, a throng of people is funneled down an escalator or two to the platform and the waiting train.
Yesterday I was across Manhattan in Grand Central Terminal, well preserved, still functioning as a train station, with an immense grand hall.
Penn Station on the other hand is hidden under the giant colossus of Madison Square Garden. The entrances to the station all lead down below street level into a maze of corridors where it's all too easy to get lost.
Governor Andrew Cuomo describing Penn Station: "It is dirty, it is dingy, it is dark and that is not what New York is all about."
It wasn't always this mess. When the station opened in 1910, it was every bit as impressive and lofty as Grand Central opened in 1913. Everyhing changed in 1963 when a nearly bankrupt Pennsylvania Railroad sold the air rights above their station for development. We should really say "above ground" rights, as everything of the old station above ground was razed and redeveloped into non-descript office towers and the giant circular clump that is Madison Square Garden in its 4th location in the city that never sleeps.
Work is currently underway to improve Penn Station by turning the old Farley Post Office next door into a new terminal building.
The last time I rode the Lake Shore Limited from New York to Chicago was in 1978 and it departed from Grand Central Terminal. Just like it's famed predecessor, the 20th Century Limited, which every day rolled out a red carpet for its passengers prior to making a 16 hour overnight run to Chicago.
Today's trip is also overnight, but scheduled to take about 20 hours with a number of stops along the way. No red carpet.
Finally the track is announced and in the short time it takes me to get over to the right gate, there's already a long line. I wonder what finding a good seat is going to be like. Obviously the train is quite full today.
The clock has ticked well past departure time before I get down to the platform. I quickly make my way to the designated coach and once inside, survey the rows of seats. I'm in luck. There's a window seat. On the left. This is important. From Manhattan all the way to Rensselaer the railroad follows the Hudson River valley. The left side of the train will face the river.
I've ridden trains along the Rhine from Cologne to Mainz many times. That's a solid feast of villages, castles, barges on the river and vineyards. Always love it.
Now I'm eager to see what the Hudson valley is like.
Back in 1978, neither I nor my travel mate Debbie thought about the ride along the river and so we sat on the right side of the train, with green hillsides outside the window. It was years later that I figured out what we'd missed.
Departing New York is an interesting ride with much of it in galleries and tunnels as we pass under busy streets, tall buildings and parks. Finally near the top of Manhattan the train comes squarely out in daylight. I catch a glimpse of the George Washington Bridge. From here on the sights never stop. Sometimes the tracks are so close to the water, I feel like I could reach out and touch it. Except of course the windows don't open.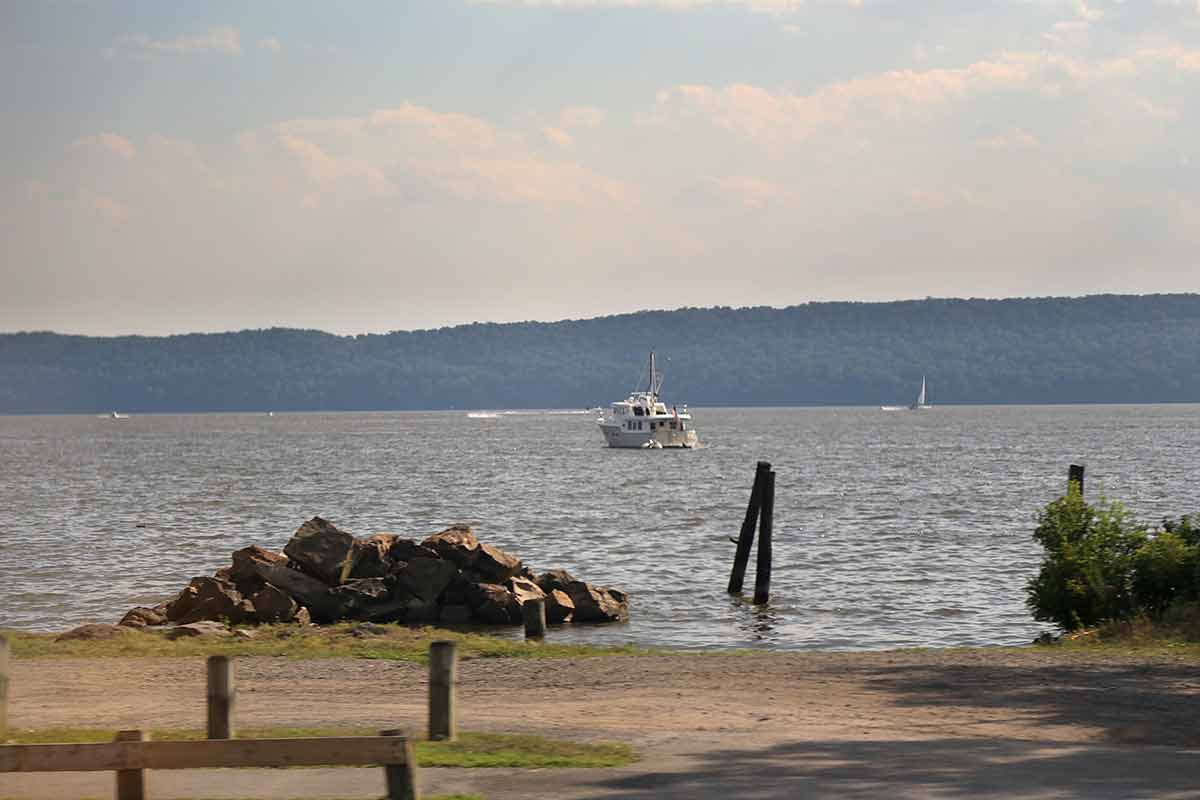 I enjoy every bend in the river, which is majestic and busy. There are barges hauling goods and myriads of pleasure boats out. Even a castle and ruins along the way. I keep my camera busy.
This ride also brings back images of North by Northwest. Cary Grant makes his escape from New York on the 20th Century Limited and there are plenty of scenes of him and Eva Marie Saint riding along this stretch.
I check off an item on my bucket list. Yay.
At Rensselaer the New York section of the Lake Shore Limited is combined with the one from Boston for the trip to New York. Or that's the usual procedure. Today, due to track work in Rensselaer, passengers from Boston change trains here.
Later on, river far behind and darkness falling, I head to the dining car. I have a reservation and since no one called the seatings, I just go over there and get seated by a waiter. The dining car is a Heritage car, meaning it came to Amtrak from a predecessor railroad and was likely built in the 1950s. The scene fits right in with the train ride in North by Northwest, and also the dining car scene in White Christmas on a train bound for Vermont and "all that snow".
The herb roast chicken with rice and vegetables is excellent. The dining car is maybe half full and just this once, I have a table to myself. I'm feeling reflective tonight so that's okay.
The last time I rode the Lake Shore Limited my travel mate was Debbie, who I'd met in Berlin 3 years earlier while backpacking. Now we were traveling from New York where I'd just flown in from Europe and she'd been visiting friends, to her home in Chicago. From there I'd go on to the University of Iowa for college.
This time I'm riding the Lake Shore Limited by myself and when I get to Chicago, I'm going to visit Debbie and her husband. Haven't met in person for over 30 years. So wonder what it will be like to meet again after all that time
I check the speedometer on my phone every once in a while. We're moving right along. Readings in the 80s and even up to 99mph as the train heads into the darkness of the night.
Sometime during the night I wake up and notice the train is standing still. I go back to sleep and wake up a while later. Train is still standing still. Now that can't be good, but it's all dark outside and nothing I can do about it anyway, so I go back to sleep.
Later I find out that our train was stopped for 3 hours waiting for a freight train up ahead to set out a defective freight car in a siding. Then they had to do a brake test, which takes a while when your train is 10000' or so long. By the time we're going again, I figure we're hopelessly behind schedule. So not going to be in Chicago by mid-morning. Maybe around lunch if all goes well.
The former New York Central route from New York to Chicago along the Hudson River and then across to and skirting the Great Lakes is known as the Water Level Route. It was a racetrack for trains between the 2 metropolises (as well as upstate New York) and the many communities along the route.
From New York to Buffalo the line had 4 tracks allowing passenger trains, including the flagship 20th Century Limited, to keep tight timetables.
When the New York Central was in financial difficulties in the 1950s, those 4 tracks were reduced to 2, forcing freight and passenger service to coexist, despite their significant differences (freights mostly being very long and slow and passenger trains being short and fast).
Around 7am I head to the café car to get breakfast. Not sure how the train running late will affect things, but I plan to get breakfast before there's any chance of them running out.
Actually it's not that busy in the lounge car, so I hang out there doing some writing on my novel.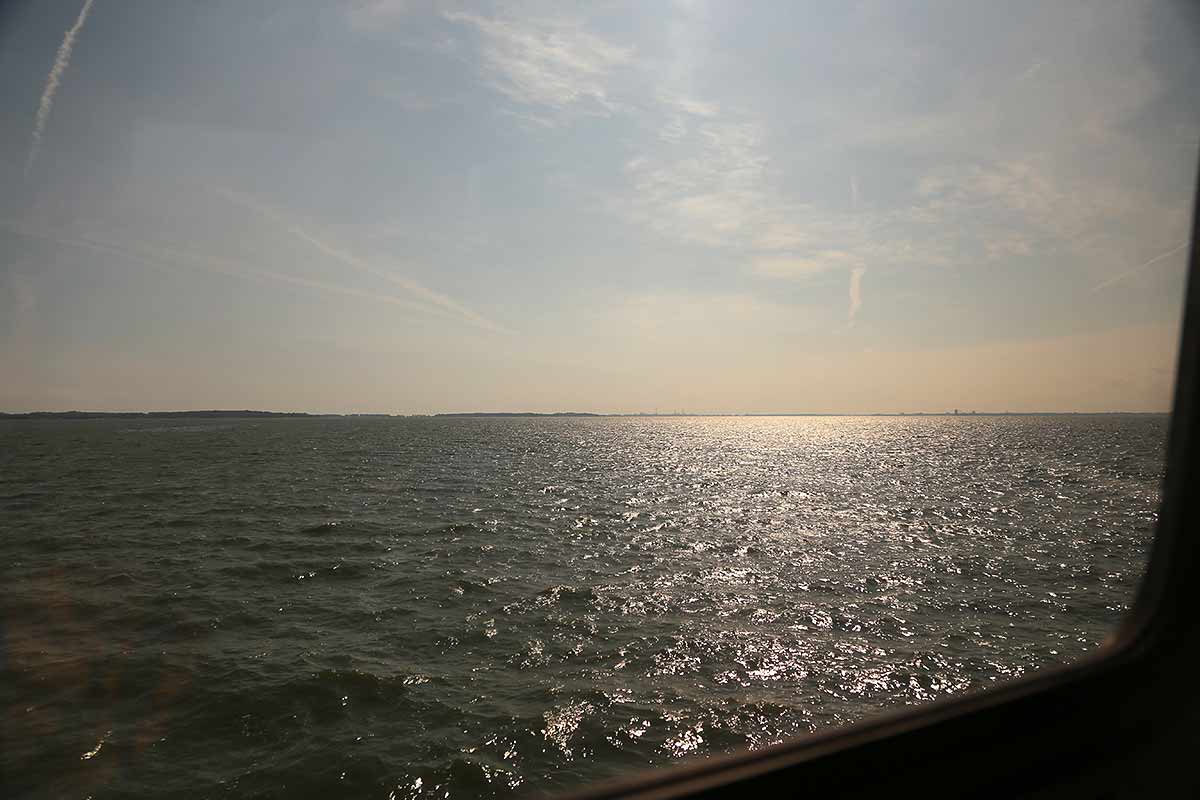 I do enjoy seeing a morning sun over the Lake Erie. Just seeing the Great Lakes from the train makes me feel like we are making progress after all.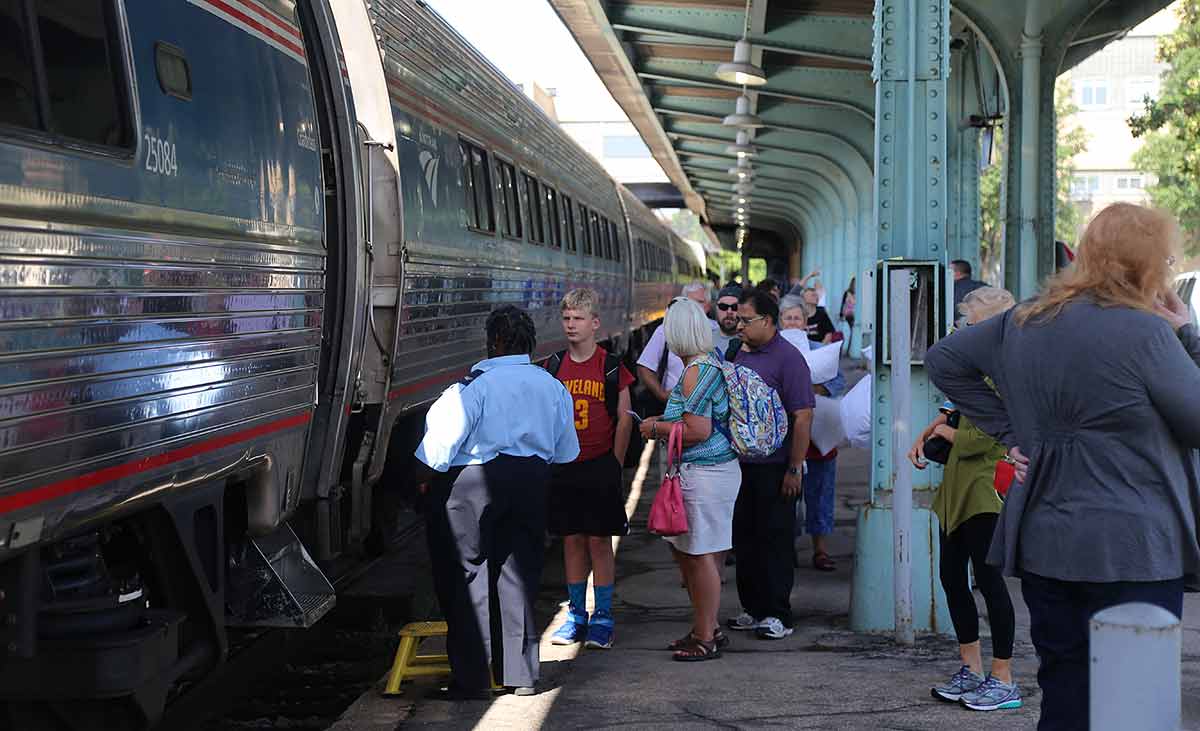 We finally make it to Toledo, which is a crew change and refurbishing stop. Of course we're way behind schedule and have long lost our slot among all the other trains. So it's going to be up to faraway dispatchers to get this train to Chicago in somewhat decent time.
I enjoy stretching my legs on the platform, watching the activity and all the people getting on and off. This is obviously a well frequented stop even with a scheduled arrival and departure in very early morning.
The thing with any kind of travel is that things can and do happen. Murphy loves to get around. What can I say? Even when we drive places in our own cars, there are delays. And I've spent nights stuck in airports or been rerouted at the last minute, getting to where I was going as they say "a day late and a dollar short." Still it's annoying, especially since I have friends waiting in Chicago.
I text Debbie to figure out arrival details. We agree on what corner outside the station I'll be on so she can just drive by and pick me up. Question is how the timing will work.
Chicago to New York (and Boston) is a significant corridor that also includes service to upstate New York. A true high speed train here (such as are in operation in Europe, Japan and China) could make the trip in about 12 hours, with stops along the way. That's about the same as Google says it will take you to drive the distance on the more direct I-80. Never mind that assumes you are driving at top speed and don't stop for gas or food. Just saying.
Since end point to end point travel is just part of the total travel in a corridor, especially one with as many large cities as the Chicago-New York one, there's definitely a market for more than one train each direction daily here. Already, there are a good number of Empire Service trains within New York State from Niagara Falls and Buffalo to New York. But for the rest of the corridor, it's just the daily Lake Shore Limited.
When the train passes South Bend I know we're about 2 hours to Chicago. Then comes Gary and the long run towards Union Station through the endless suburbs of Chicago. I enjoy the old industrial landscape, new developments and occasional glimpses of Lake Michigan.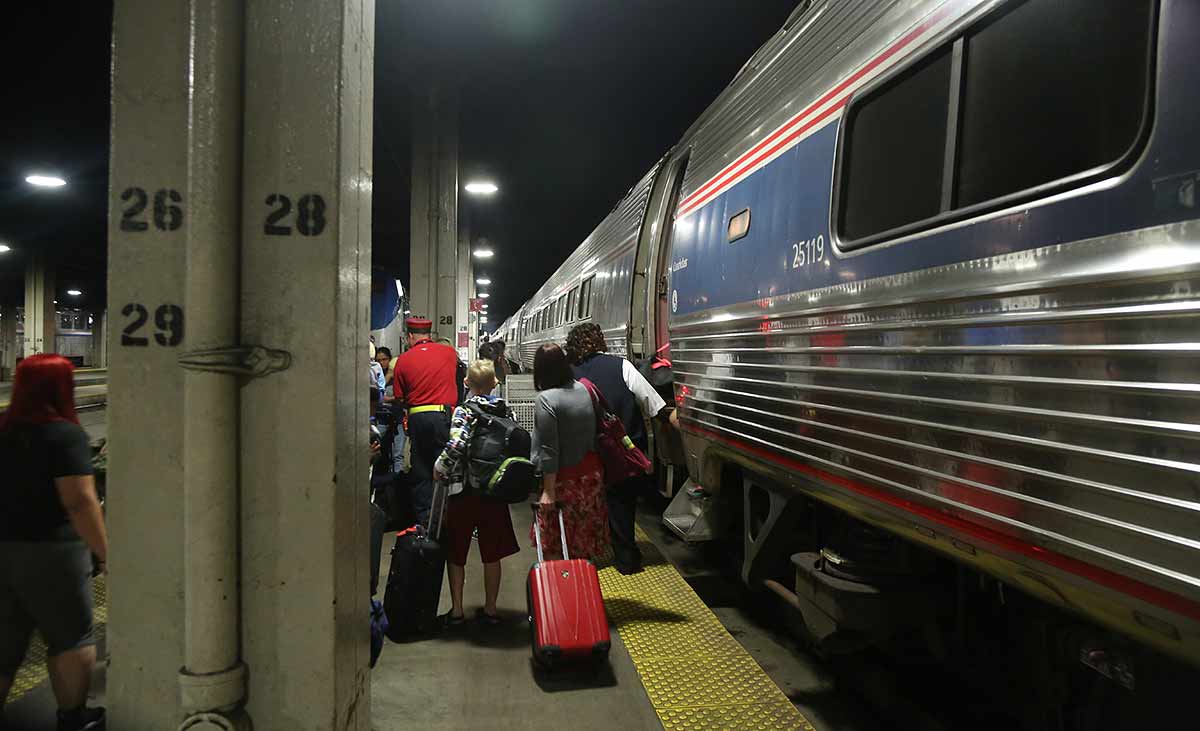 By the time the train rolls in to Union Station, I and others are all ready with our stuff to get off as soon as the doors open. In the middle of all that Debbie texts that she's inside the station.
From the gate where the train came in, a long corridor winds toward the Great Hall. It feels very familiar, like coming home (I was here a few days ago). Coming around a curve, I can now see into the Great Hall, still a long ways off. But there's no doubt: That's Debbie up there. She waves and I wave and get up there and we hug. It's like we just saw each other yesterday and not over 30 years ago.
We walk out to her car and she drives through the Loop to Lake Shore Drive. The street canyons are still there. And also lots of new buildings and a whole new park towards the lake.
I have to ask her: "I know they've put another name on it now, but what do you call it?" pointing to the very tall building just a stone's throw from Chicago Union Station. "Still the Sears Tower," comes her answer.
A little while later, Debbie ushers me into the kitchen in her home in a Chicago suburb. At the stove is her husband, Bob, obviously busy cooking. He comes over and his first words are: "I had all this food cooked for lunch, but you're late, so you missed it all." Big smile.
Actually I didn't miss it. The intended lunch becomes a wonderful dinner on a peaceful deck in Chicagoland. I feel like I've come home.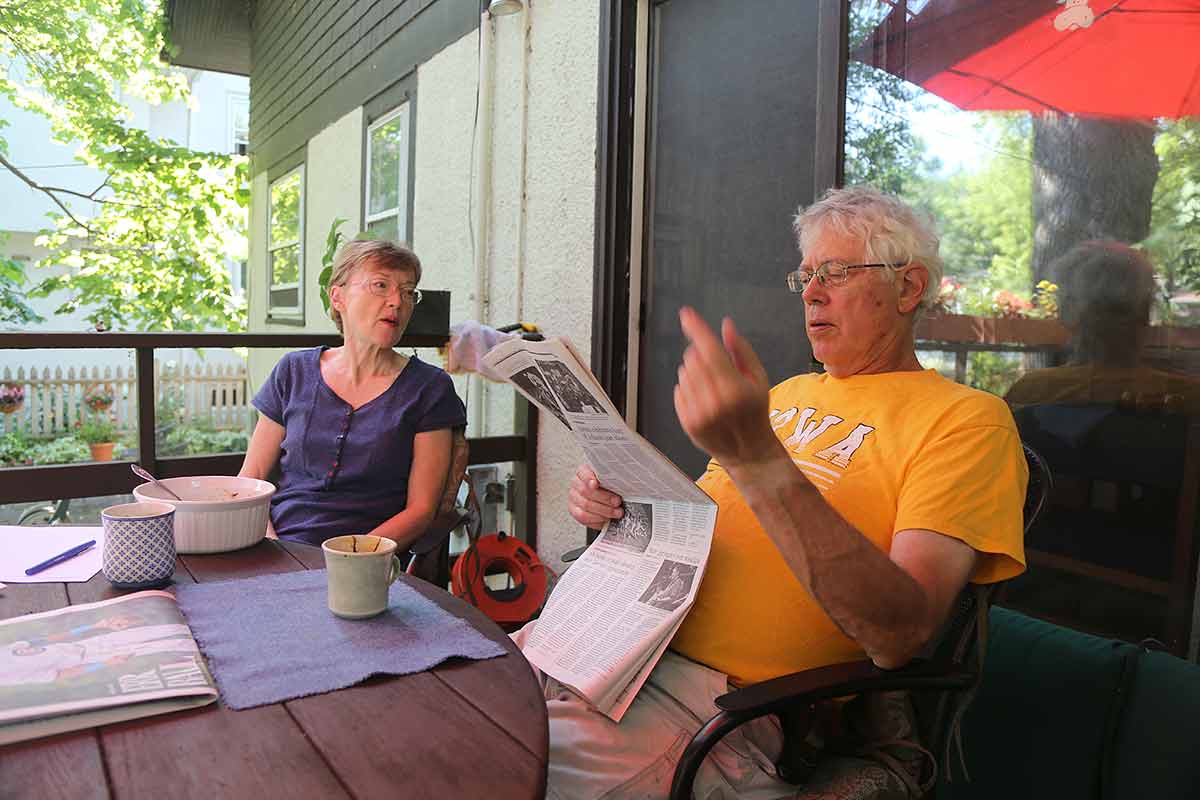 Footnote: In all, the Lake Shore Limited was 7 hours late getting in to Chicago that day. Amtrak gave me a voucher for most of the fare for that segment. Eventually that helped pay for another trip, to the West Coast.