4 movies for your watching. That are quite different from each other: 
An animated tale about following your dreams. 
2 retired men who refuse to just sit down and wait for the ambulance to take them away. 
A young woman in crisis burdened with the world's most spoiled dog.
A documentary about a woman who helped shape all our lives for the better. And still does. 
Leap!
(2016)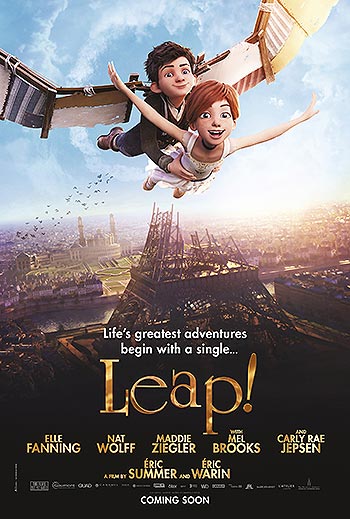 This animated film starts with a long swoop down on the Brittany countryside to find not a fairy-tale castle, or fair maiden's humble abode, but a dreary orphanage. Where we meet young Felicie balancing along the ridge of a very steep roof. Apparently part of an elaborate escape plan. Her best friend Victor is the mastermind, with barely a plan A and definitely no plan B.
Felicie and Victor have decided that they must out. Out of this place that kills their dreams and any hopes for a better tomorrow. Out to Paris. Where she will chase her dream to become a ballerina. And Victor his path to be a great inventor.
They do make their escape and reach the City of Lights. Each pursues their dream, but things don't go quite as planned.
In the new environment, Felicie encounters real friends, as well as foes. Becoming a ballerina is not going to be easy. Especially when there's an overbearing mother who will do anything to ensure her little Odette gets to be the star of the ballet.
Felicie connects with Odette, a cleaning lady at the Grand Opera. Who turns out to know so much more than just a cleaning rooms and stairs.
Victor has his own challenges, but manages to get work as a gofer for Gustave Eiffel, who is building the Eiffel Tower right then. While most of Victor's inventions tend to go disastrously bonkers, in the end, one of them actually works. And at the most key moment of them all.
Leap! is a family friendly story of overcoming overwhelming odds, friendship, believing in yourself and others. Of finding help in the most unexpected places. 
All playing out against a gorgeous tapestry of scenes from the City of Lights, with some French countryside thrown in.
Some days, dreams really do come true.
Last Laugh
(2019 — Netflix)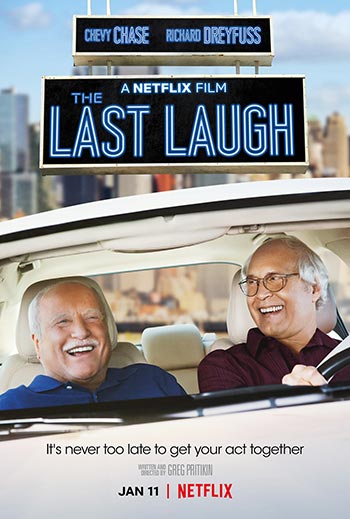 When you have lived a long life, what else is there, except to retire? To a retirement community. With other old folks who are done with life.
Al Hart (Chevy Chase) is a long-time talent manager in Los Angeles, who reluctantly lets his granddaughter talk him into moving into a senior community. There he meets Buddy Green (Richard Dreyfuss), a client from long, long ago.
Buddy started out as a comedian with one big goal: to get on The Tonight Show. Except he dropped the mic for becoming a Beverly Hills podiatrist. Something about money and stability.
Soon, Al gets a brilliant idea: Let's ditch the retirement community (where you only get out in an ambulance) and do a road trip. To New York. To get Buddy on The Tonight Show. Because late is better than never. 
The 2 men get in a car to drive across the country from LA to the Big Apple. Along the way, Al gets Buddy appearances at holes-in-the-wall, as well as in Vegas (way off the Strip, but still Vegas). All to get the creative juices flowing again.
However, Al's contacts aren't as good as they used to be. And even his smooth-talking may not be enough to get on The Tonight Show. 
Plus, what exactly is Buddy's health issue? Is he as close to the final curtain call as his grandson would have everyone believe?
Along the way, there are requisite mishaps. And an extra guest. Al meets Doris, from Kansas, who rides with them to Chicago.
This is a story about friendship. About finding your way when seemingly at the end of the road. Long ago, Buddy made a life choice, stepping away from stand-up comedy for the money, predictability and security of a medical career. Which he was apparently good at.
So what else is there for them to do? To find in life? Stay at the retirement community and ride the short bus to carefully planned, non-taxing outings?
In the end, Al and Buddy show that they still have the ability to make choices and follow dreams. To do life on their own terms. 
Patrick
(2018)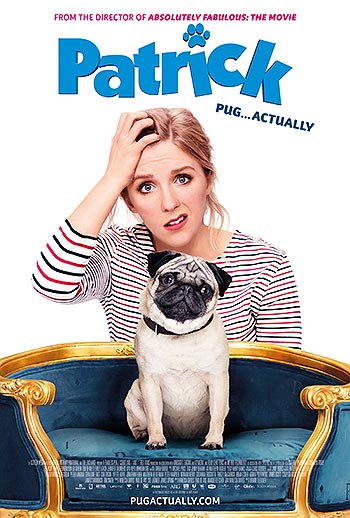 Sarah is a young English woman, with a life that's a bit of a mess. To say the least. Things are falling apart left and right. And she's about to start a new job as a teacher. The last thing she needs is someone to look after.
Apparently her rather wealthy grandmother thought differently. At any rate, she bequeathed her very spoiled pug to Sarah. That's Patrick. Who doesn't eat from a doggie dish, but on finest china. Only the best ingredients.
When Sarah protests that she can't possibly take the dog, the other family members all make scarce. No support there.
So it's Sarah and Patrick. She of course lives in a no-pets-allowed flat. And getting up early to walk the dog isn't really her thing. It's also definitely not Patrick's thing to be left alone in a flat all day. Witness the shredded everything.
Her teaching job is not off to a good start. The teenage students don't care one bit about Jane Eyre or any other literature. Sarah resorts to an air-horn to get the class' attention.
But she makes friends with one teacher, while getting roped into a 5K Fun Run (which doesn't sound fun at all).
And it turns out dogs can have their good points. Even spoiled ones.
Because of Patrick, she meets Oliver, the dashing, jogging vet. And Ben, a very regular guy with a dog in the park.
When a dog-owning neighbor who helps Sarah with Patrick gets evicted for breaking the no-pet rule, Sarah takes the blame and finds herself homeless. Until her teacher friend helps her find the boat. Nothing like living on a boat, down by the river.
Patrick is a feel-good story about the things that can happen when we step out and care. Like Sarah does with her students, gradually winning them over. Like the new friendships that are formed. And having a dog to break the ice or save the day doesn't hurt either. Because we need things to connect over.
RBG
(2018)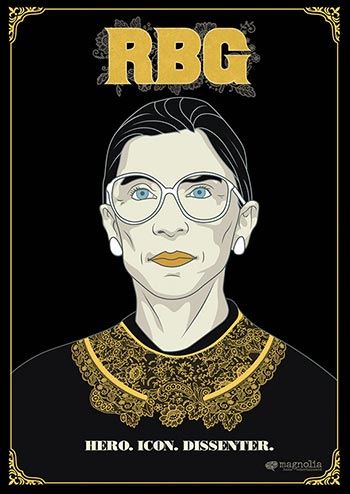 As Monty Python would say, "Now for something completely different." 
RBG is a documentary that brings us into the life of Ruth Bader Ginsburg. Supreme Court Justice. But long before that a remarkable woman. 
She was one of just a handful female law students at Harvard. Then she graduated and learned that law firms just didn't hire female lawyers. Because it's a man's world.
Maybe in this one case, we're all better off that Ruth didn't get gobbled up by some big law firm. Instead she turned to teaching law and also became an advocate for gender equality and women's rights through the legal cases she came to work on. Not just one random case at a time, but Ruth apparently had a plan and case by case laid groundwork for concepts like equal treatment under law becoming everyday practice.
The documentary follows her career and life, giving us a candid portrait of a woman who loves her work, cares deeply about the world around her and has enough tenacity to keep her going long after the going gets tough.
Physically diminutive, she's still a woman of immense stature and we should all be thankful that she did eventually end up on the Supreme Court. Though at the time of her appointment at age 60, even she thought maybe she was too old. Surprise. The best was yet to come.
I wish I will have as much dedication and vitality when I reach her age.
---
These 4 movies play in different stages of their characters' lives:
Felicie and Victor are tweens. Their whole lives ahead of them. Just starting out, but what a start!
Al and Buddy have their lives behind them. Could just sit back and let nature happen. Accompanied by fresh drinks and a poolside view.
Sarah is in the messy middle. Grown-up but still figuring it out. 
RBG spans a lifetime. Did young Ruth have any inkling that she, one of a handful of females in an otherwise all-male environment at law school, would one day sit on the highest court in the land? I seriously doubt it. I don't doubt that she saw wrongs and wanted to change them. She took the next step. And the next after that.
The characters in these 4 movies all took the next step, whether seeing it clearly or dimly, as in a poor reflection. But they moved out and shaped life on their terms. For themselves, for others.
That's inspiration for all of us. No matter where in life we are. Nobody is too young or too old. There's something for each of us to accomplish that only we can do. Today is a good day for starting…