We make plans and then life happens…
Planning this journey from Little Rock to Los Angeles and home again was simple enough. My conference ends at 7pm on Sunday and the train leaves Los Angeles at 10pm. Perfect. I'll be in Little Rock on Tuesday evening.
That's the plan.
A few weeks before the trip, I get an email from Amtrak. Due to track work, the Sunset Limited is now set to depart Los Angeles at 7pm.
Ouch. That would mean leaving the conference mid-afternoon to make it to the train station, missing the conclusion of the conference. I'm not going to do that. So back to the drawing board.
Since the Sunset Limited runs 3 times a week, the next one won't leave LA until Wednesday night. I can spend another couple days in La La Land or find another train out of the city. I go check train schedules.
From LA, I can take the Southwest Chief towards Chicago. It runs daily and I could catch it on Monday evening. That would mean one more night and day in the City of Angels.
The Southwest Chief is actually on my bucket list. It runs the classic Santa Fe route from LA to Chicago through Arizona, New Mexico, Colorado, Kansas and Iowa. This route was in danger of being abandoned a few years ago. BNSF (the owner railroad) decided they didn't need it any longer since it has too many curves and hills for today's long freight trains. Finally the states, BNSF and Amtrak worked out a deal to keep the route for the passenger trains.
Back in Santa Fe days, the all sleeper Super Chief and the all coach El Capitan whisked travelers from Chicago to LA in 39 3/4 hours here.
I could possibly catch a train from Kansas City to St Louis and there take the Texas Eagle to Little Rock. If I did that, I'd be home on Thursday morning.
Or I could stay on the Southwest Chief all the way to Chicago. Then spend a day or two there and come home on the Texas Eagle towards the weekend.
If I stay in LA and leave there on the Sunset Limited on Wednesday, I'll be home on Friday.
Options, lots of options.
I finally decide to take the Southwest Chief to Chicago and then head home from there.
One quick phone call to Amtrak to get my ticket changed and I'm ready to go.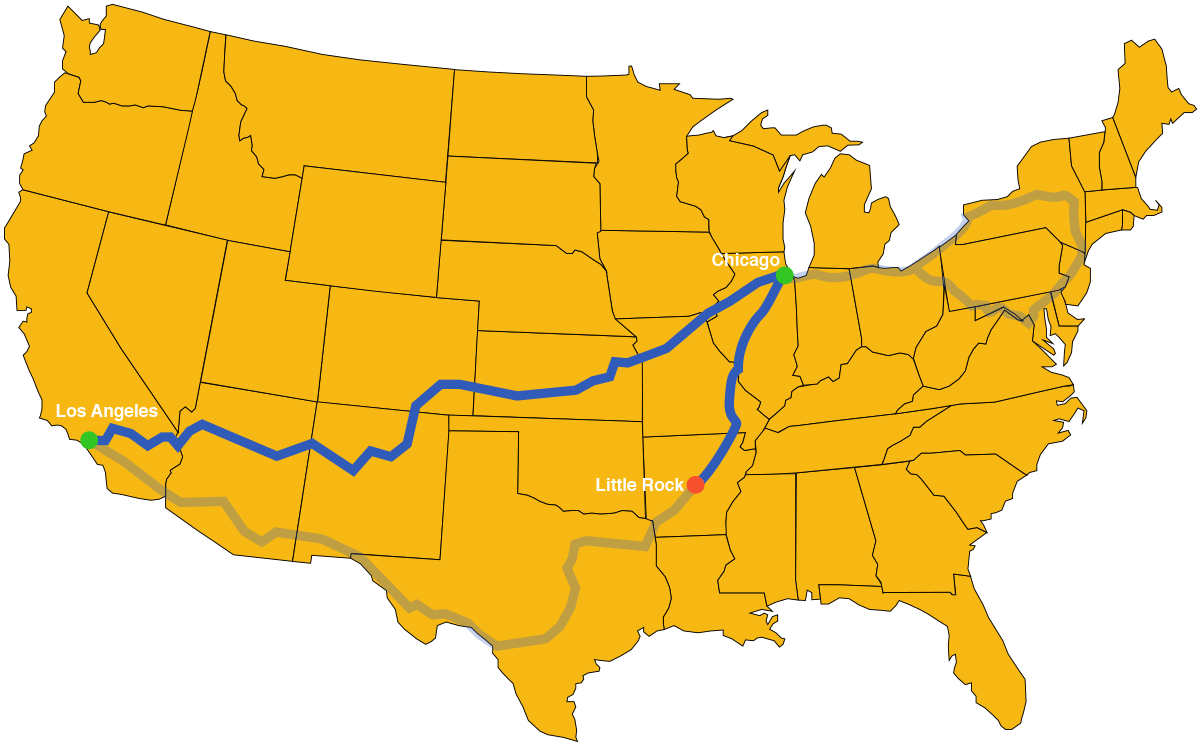 Fast forward. It's Sunday night in LA. The conference is over and I relax at the hotel. The next morning I get some work done and then eventually head downtown on a city bus. As it winds through the neighborhoods, I get to see what Los Angeles really is like.
Late afternoon, I'm at LA Union Station. Purposely get there plenty early because I want to explore the station with its interesting mission-style architecture, art deco details and gardens.
I'm curious about what the boarding process will be here. Every station seems to be a bit different. People eventually start lining up. I join in and get my seat assignment. Then there's another line. I wonder if they're going to march everyone out to the platform. Nope. This is for people who want a golf cart ride to the train. Want to walk out there? Go ahead. So I do.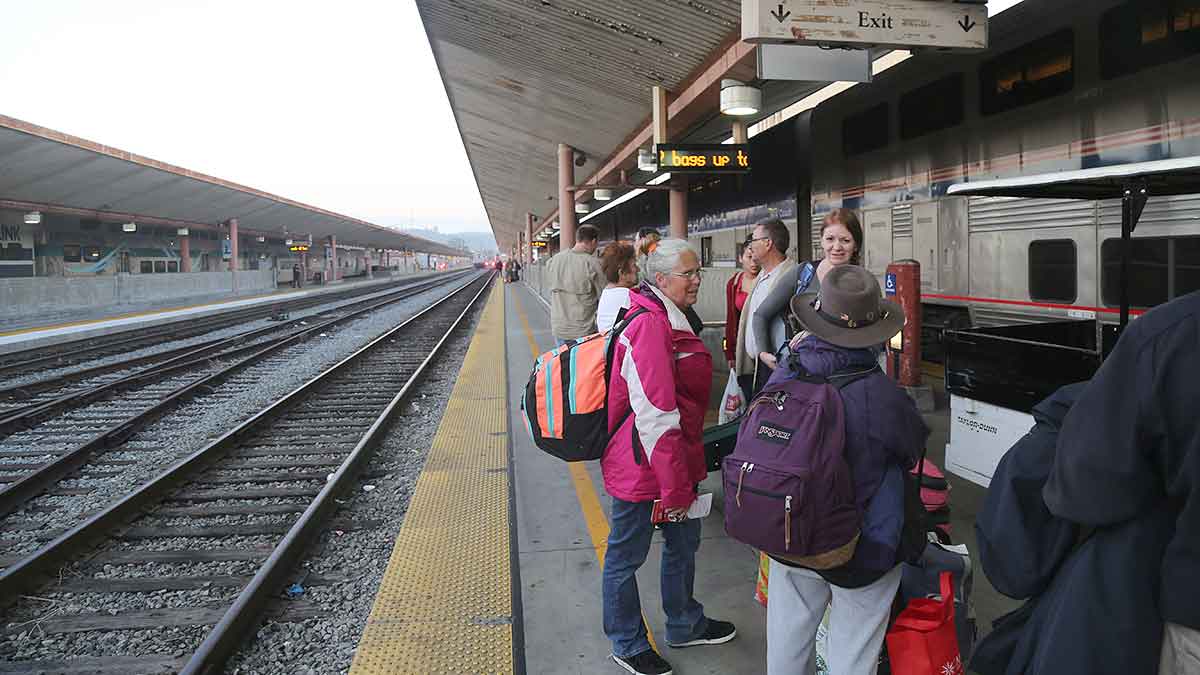 Soon I'm on a platform with plenty other people waiting and no train. Eventually we see 2 red lights and a train backing in. I was told the coach for Chicago would be at the end of the track, so that's where I'm waiting.
Everyone piles up by the one door of the train car. The folks stowing their luggage in the lower level racks are blocking the way for everyone until they're done. I notice nobody is by the door to the next train car. So board there, then go upstairs and cross over to my car. Find my seat and now I'm already seated while others are still waiting to get on the train. I always put my backpack up on the overhead shelf above my seat. Fits fine and I can easily get to it anytime I need something. On this journey, I will definitely need to change clothes. It's sunny and warm in LA. In Chicago it may be sunny, but it will be freezing and snow on the ground.
As the train glides out of the station, across the LA River, away from downtown, it's already getting dark.
I was planning on the dining car for dinner, but that changes when an announcement is made that they will only serve the sleeper passengers tonight. That's a bit odd, me thinks. The train leaves right around dinner time and I can't be the only coach passenger getting hungry. Sure, I could have picked up dinner from any of the establishments in the station, but I was looking forward to the dining car experience again tonight.
Instead it's the café car experience and pizza. That works too. Then get some work done in the lounge car and call home for while.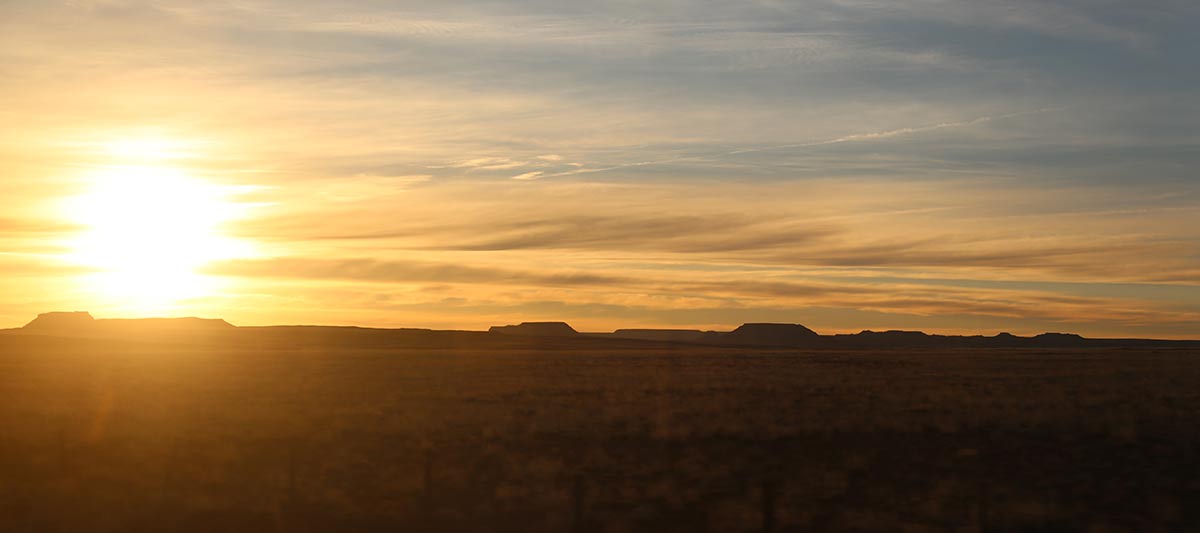 Next morning I wake up to a sunrise somewhere in Arizona. It's a different landscape than on the more southerly route I traveled going to LA. No cactus here. Just shrubs and grass. Reminds me of areas in Colorado. Lots of interesting rock formations and even snow on some distant mountain peaks.
After breakfast in the café, I get busy with work, while also keeping an eye on the panorama rolling by outside the big windows.
I'm not quite sure what I expected, except maybe more mountains. Instead we're in flat territory where standing at the tail of the last car, I can look back at straight tracks for miles until they disappear at the horizon.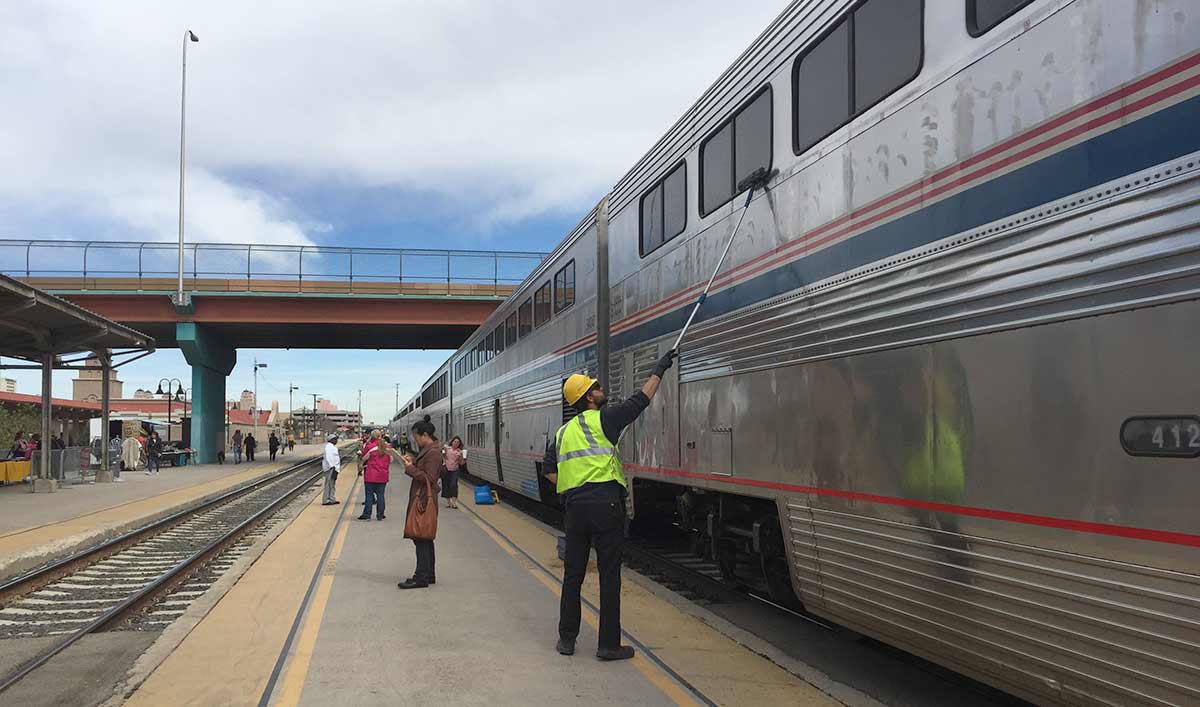 By noon we've made it to Albuquerque, right on time. The train has a long stop here for servicing. Perfect time to step outside for some exercise. Not that I'm sitting still the whole time on the train anyway.
Local vendors have set up stands selling souvenirs to the train passengers. Business doesn't seem to be overly brisk today and some of them pack up and leave before the train departs.
A crew also comes through and washes train car windows. Presumably the good folks at Amtrak don't want us to miss any of the scenery ahead. Because things are about to change.
After Albuquerque, the landscape gets increasingly hilly. The stop in Lamy is as close to Santa Fe as this train goes. A good number of passengers debark here, most of them going on up to Santa Fe. I'd love to join them and spend some time exploring this area: the city of Santa Fe, the national forests around here or even head up to Chama and the Cumbres & Toltec Scenic Railroad. The mountains are calling, but I stay on the train today.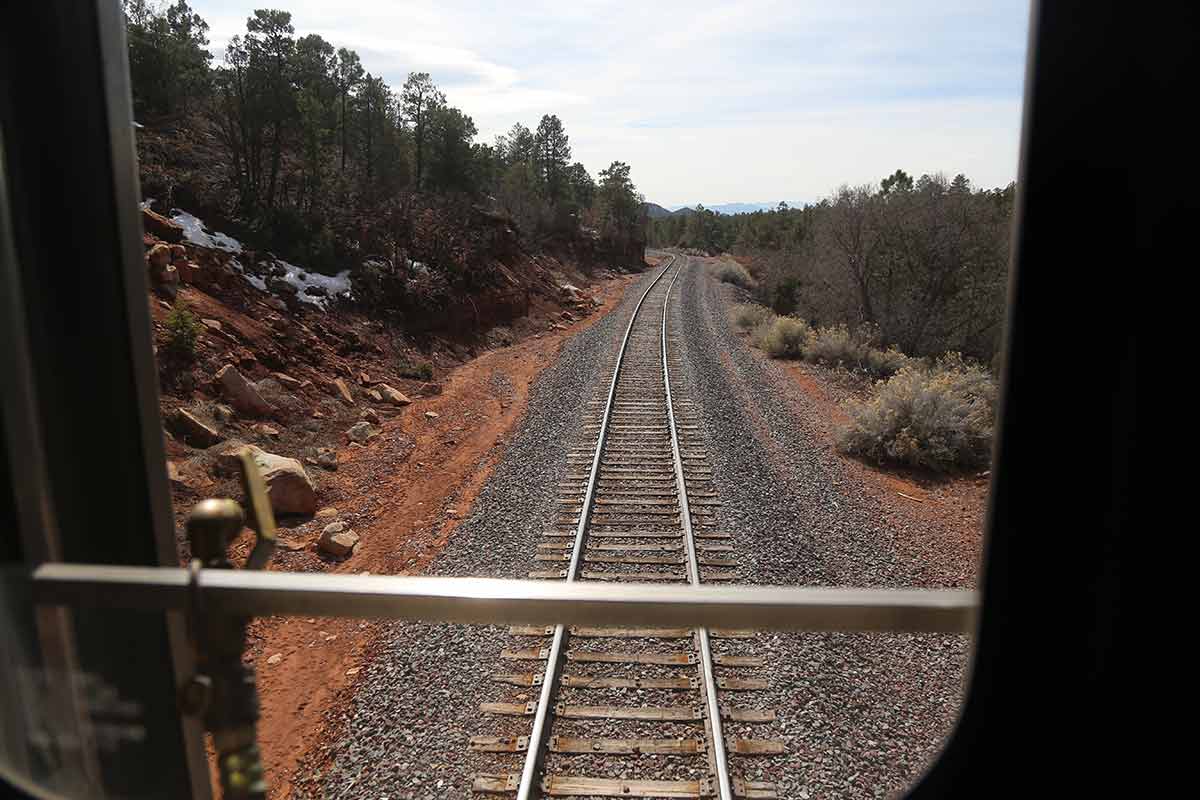 Rolling on, the train now winds its way up a valley. Again reminders of Colorado. These are real mountains and there's snow on north-facing slopes along the tracks. Some of the cuttings are tight enough, I feel I could stretch my hand out (if the window opened) and touch the rock from the train.
While it's slow going because of the curves, it's also exciting as the view changes constantly.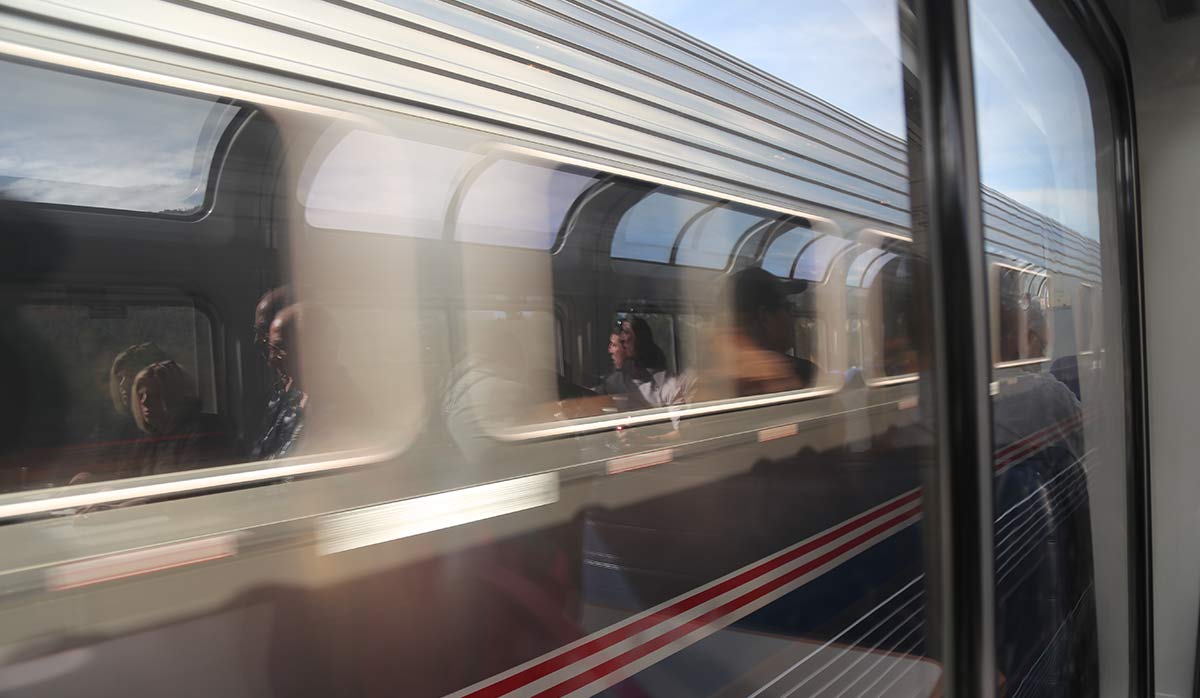 And then the rocks give way to plains. We're rolling along on a high prairie and the train is doing 80mph. Not much out here, except grass, occasional cows and Interstate 25 that has more or less followed the railroad much of the day.
For a moment I'm a bit confused. I was expecting the famous Raton Pass where we cross the mountains. Did I miss it?
Not quite. The hills return and we climb again into a narrowing valley. A creek below, then the railroad and higher up the hillside is I-25.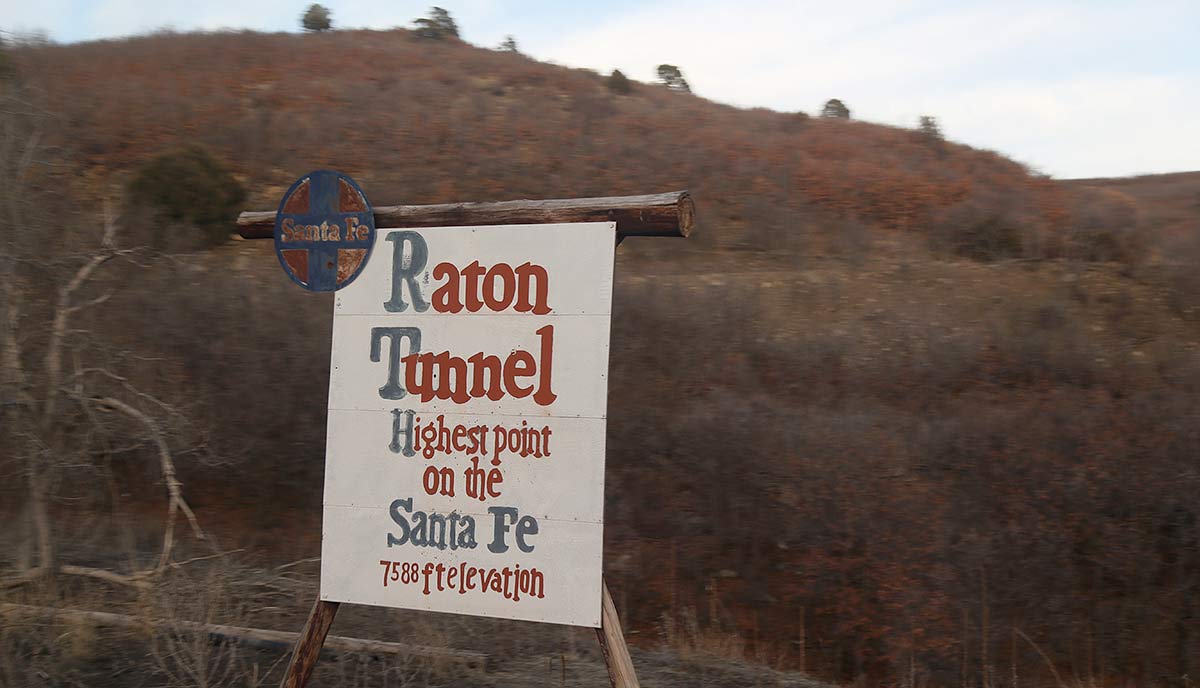 There it is: The sign proclaiming the Raton Tunnel, the highest point on the Santa Fe system. Then into the tunnel. Once out on the other side, there are patches of snow on the ground. We're in another valley, still with I-25 to the side, making slow progress downward.
Eventually we level out on a high plain and the train speeds into Colorado as evening comes. There are a couple station stops. All day I've watched the station stops. Groups of people get off. For them it's the end of the journey. Others get on, beginning their journey. I wonder about the stories their lives represent. What prompts the journey for each of them?
On Amtrak's long distance trains, end point to end point passengers are just a small percentage of the total number of passengers carried. Most passengers travel just a portion of the entire route.
For the Southwest Chief, running from Los Angeles to Chicago, that's a lot of possible city pairs. For instance, a lot of people traveled Los Angeles to Lamy (Santa Fe). Others get on there and they may go to Kansas City or even all the way to Chicago. Or they might just be going to La Junta in Colorado.
It's a unique feature of trains that they can connect many communities along the rail line in a large number of ways, all with the same train.
If I had more time, I would have gotten off at Flagstaff, AZ, and visited Grand Canyon. Then at Lamy to spend time in Santa Fe. Then maybe at La Junta and gone up to Colorado Springs. Someday that would be a great trip, but not today.
As it gets dark outside, I notice that there are a few lights out there. Farms and small towns. We're rolling over the Colorado plains. I look at my phone and the time is an hour later than a few minutes before. It's Central Time Zone. Toto, we're back in Kansas.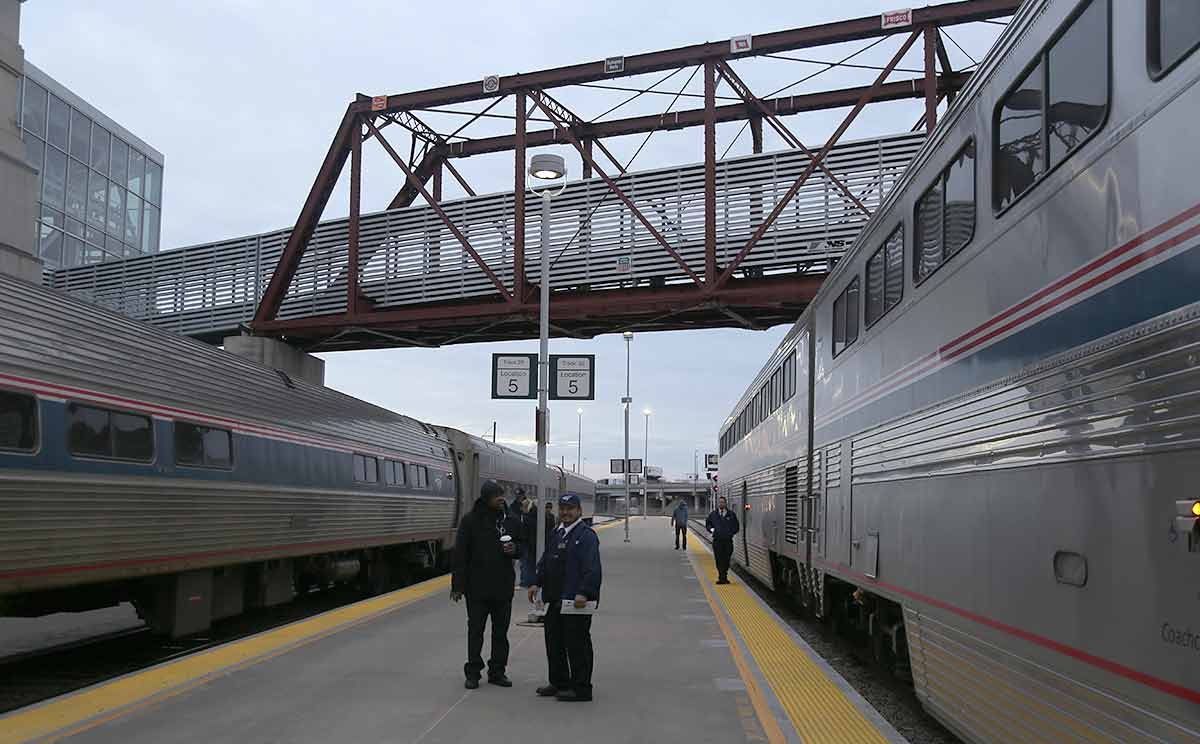 The next morning, the train is standing still when I wake up. I peek around the window curtain and realize we're in a refueling facility. The overnight ride across the Kansas prairie is behind and the train soon rolls into the Kansas City Union Station. We're early and it's cold on the platform. I put on a jacket and get some pictures of the train and chat with other passengers. Most prefer to stay in their beds or seats and get a little more sleep.
Leaving Kansas City, the train crosses the Missouri River and speeds along through a very different landscape from the earlier journey. Here are farm fields mixed with wooded areas. Definitely the Midwest. This trip will even get me back to my old home state, Iowa, even if for just about 20 minutes. The train stops in Ft Madison, IA, right by the Mississippi River. Then rolls out on a big bridge and crosses the river into Illinois.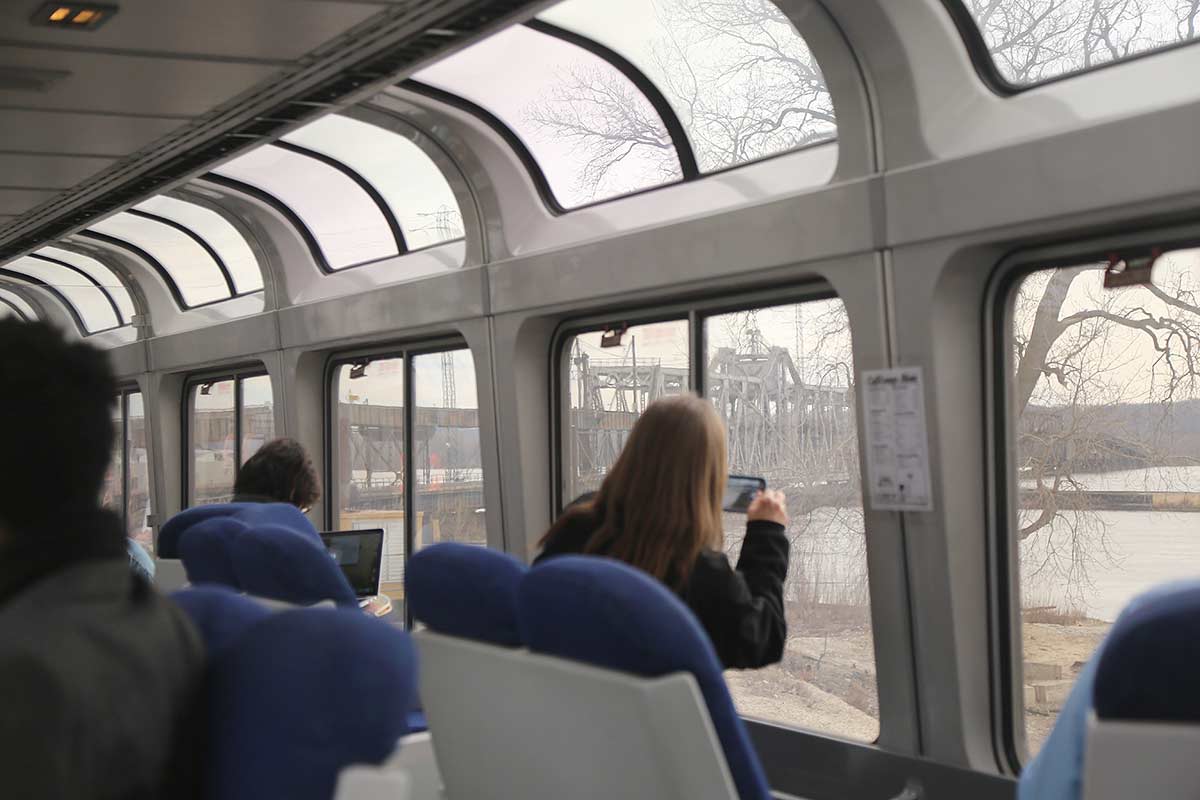 This trip has offered a lot of different landscapes. Majestic mountain valleys, grand high plains, lots of prairie and now farm land dotted with homesteads and towns. This part feels like home to me. America truly offers a lot of variety.
I've definitely proven my idea of doing real work on the train. The website is ready to load up to the server when I get home and I've spent time going over my conference notes, planning the next steps. Really wouldn't mind doing more of this travel/work-on-a-train thing.
So far the train has been early into most stations. We just might make it to Chicago early too. Already we're closing in, zooming right along.
Then the train stops, in the midst of farm fields. I hear from the crew that a trackside detector has flagged an issue. If that means someone has to be sent out to fix an overheated bearing or something else, we could be here for a while. Then comes an announcement that the engineer talked to dispatch and we're going to be on our way soon. Which we indeed are.
As we roll through the miles of Chicagoland leading to the station, I get my things ready. In Chicago, I'm again going to visit Debbie and Bob. She emails, asking if I can catch the train up to their house instead of her driving down to pick me up at Union Station. Sure can. I check Metra schedules on my phone. There's a train leaving Ogilvie 5 minutes after this train gets in at Union Station. Just a few blocks between the stations. If we get in a bit early, I should be able to make that.
No matter how many times I ride a train into a destination station, it's still exciting — and a bit sad. Exciting because the next step of the journey is about to unfold. Sad because a journey is over. You get into a routine when on a train for a while and now that's done.
The city landscape as the train nears Union Station is interesting in itself. A mix of industry, warehouses, residential areas, rail yards and bridges. When we roll over the big steel bridge spanning the Chicago River, I know we're close.
By the time the train comes to a stop at Union Station, I'm ready by the exit door with my backpack and shoulder bag, and of course dressed for winter weather. Getting on in LA it was T-shirt weather. Here it's somewhere close to freezing.
Once off the train, I head towards the Great Hall and finally up to street level. It's sunny, but nippy outside and the afternoon sun is already casting long shadows in the stone canyons.
Walking up to Ogilvie Transportation Center takes just a few minutes. I get a ticket and then dash into the waiting Metra train. Still ahead of rush hour, so I get a seat. Yay!
The train starts and rolls out of the train shed, into the afternoon sunlight. Looking back I can see the tall buildings of downtown.
Neighborhoods fly by as the train moves north. Soon enough I get off and find there's snow on the ground. The walk to Debbie's and Bob's house is a stroll through a winter wonderland. Glistening snow — not too much — just enough to cover the ground and roofs, making everything look fresh and clean.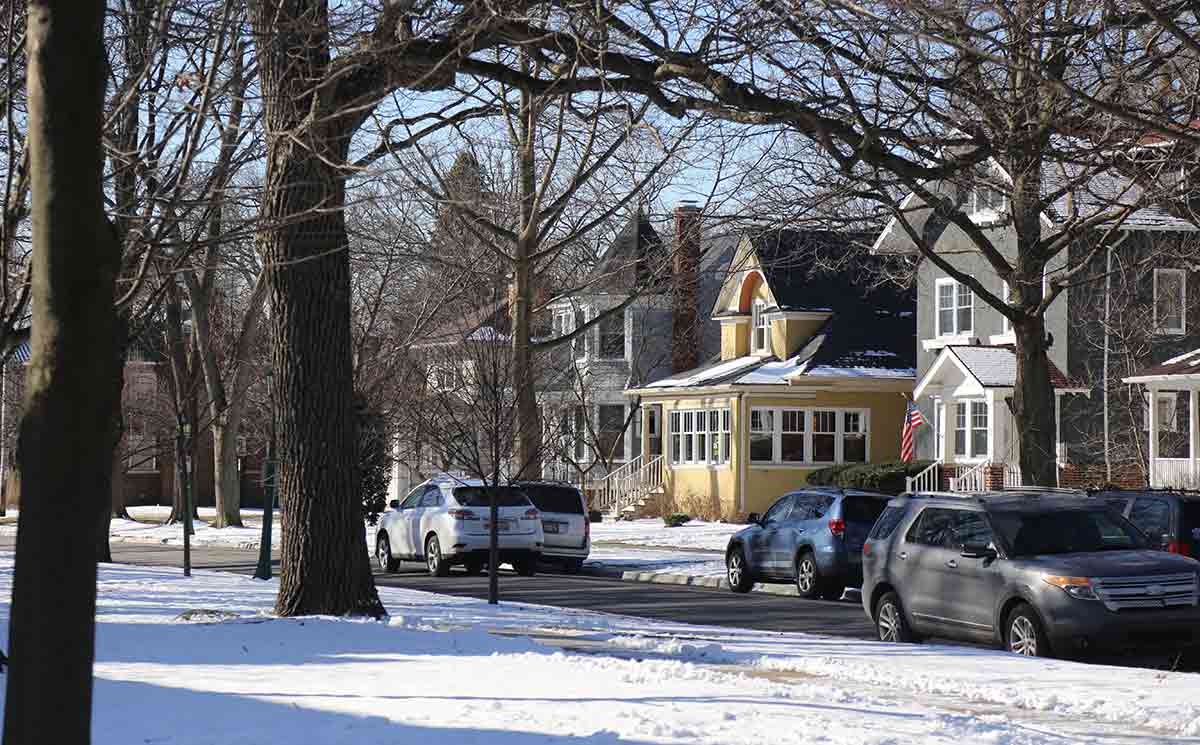 After a few minutes I'm at their house and as I ring the doorbell, Debbie opens the door. I have arrived.
A couple days later I board the Texas Eagle to Little Rock and home, to complete the journey.
A journey that's turned out quite different from what I originally planned. But because it did, I got to experience so much more of the US.
I would have been just fine with the original plan: train Little Rock – Los Angeles and back the same way. It was efficient. A good plan.
Then track work changed it and I took the opportunity to ride a train route I had wanted to travel for a long time. And so coming home turned into a very different experience from the trip to LA.
As an added bonus, I got to experience some winter by going to Chicago. (Yes, living in Little Rock, I do miss winters with snow.)
Reflection:
When traveling, how do you handle changes in plans?
Do you look at the change as a negative or as an opportunity to maybe experience something you didn't plan on?
Have you experienced a change in travel plans that turned out to give you a much better travel experience than you originally planned?